Share this article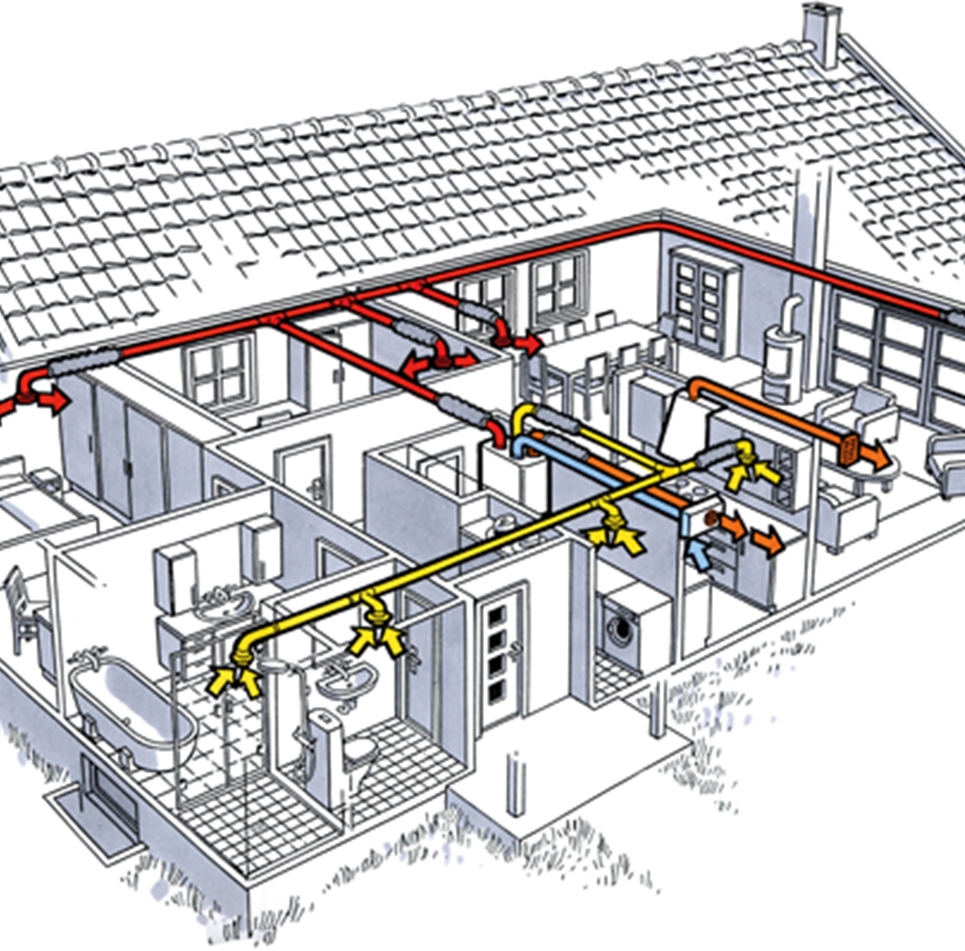 Balanced ventilation secures a good and healthy indoor climate in all rooms, all year around. Balanced ventilation expels of contaminations, moisture and bad smell and reduces radon levels. Clean, fresh air is supplied to the building and indoor air contaminated by people, animals and material is expelled. The indoor air will be clean and fresh providing good comfort. Balanced ventilation will also contribute to avoid the building beeing damaged by moisture resulting in mould or other unconveniant conditions like condensation on windows. In city areas with a high degree of pollution the filter will prevent a.o. sulphur particles entering and secure that only fresh air will come into the building. Balanced ventilation is energy saving. Up to 85% of the heat in the ventilated air will be recovered.
What is a balanced ventilation system built up of
A complete balanced ventilation system consists of a air handling unit with controller, duct system with insulation and silencers, supply valves, extract valves, air intake and exhaust. Additionally there are accessories which can control the ventilation automatically. The air handling unit itself consists of two fans, a highly efficient rotary heat exchanger, rotor motor, two filters and control system.
Advantages with balanced ventilation
Expells contaminated and humid air
Supplies clean, filtered and tempered air to the building
Provides good comfort with silent and draught free ventilation
Energy saving, recovers normally more than 80% of the heat in the ventilated air.*
Developed for operation in cold Nordic climate conditions
*Compared to an extraction system you will save between 4-8000 kWh/year.
In which way does balanced ventilation work
1. New, fresh, filtered and heated air is supplied to bed rooms and living rooms through valves.
2. The used and contaminated indoor air is extracted from all areas in the house through valves in kitchen, bathrooms and wetrooms.
3. The used and contaminated indoor air is exhausted from the house through a combi box on the wall or through a roof hood.
4. Outdoor air which is taken into the building is passed through the filter in the air handling unit. In this way the air is cleaned before supplied to the rooms.
5. Extracted used air on its way out heats up the the new incoming clean air. In this way energy for heating is saved.
6. Air intake through a combi box or a separate valve.
7. Air from kitchen hood is exhausted from the house through a separate valve or alternatively through the air handling unit by a bypass channel aside of the heat exchanger.